West Coast Solar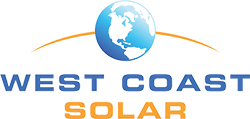 West Coast Solar is a local, full-service installer serving the Bay Area, Fresno, Sacramento, and Monterey.
Offerings
Solar Panels

Batteries

Mobile App

Leasing

Purchase
Media
Featured Reviews
Jim –

Had an OK experience with this company, nothing remarkable. I wrote a negative review before, but I'm giving them a bump now, since they were better this time.

Tommy –

Good customer service. The techs are always on time, friendly and professional. They have reasonable prices too. I'll continue to use these guys in the future.

Kathryn –

We redid our roof and got solar at the same time. Everything went very smoothly, and we were impressed with their professionalism. Our electric bills have bottomed out since we turned the panels on - no more than $10 a month.

Deanna –

We have a very old AC unit and thought we might need a new one. When Salam came to take a look at it, he could very well have told us that, but he was very honest and told us all it needed was some more freon. It worked like a charm! This is after someone from Anderson Plumbing wanted to do repairs for about a $1000.

Brady –

ASI came to my home in Fresno when my AC broke down last summer. They didn't have the tools and/or parts to fix it right away, so I had to wait three days without air. The cost was also expensive. I was not impressed.

Meral –

We were getting concerned about our rising utility bills and wondering if we'd be able to continue paying the large bill at the end of the year. We had West Coast Solar come out and put a system on our home in Monterey. They designed one that was affordable, and still met our needs. It also looks really nice. Solar makes so much sense - we're saving money and helping the environment at the same time. Thanks West Coast Solar!

Jon –

We couldn't believe how quickly our technician fixed our wall heater. He came to our house in Fresno and diagnosed the problem in no time. He had the replacement part on hand, and had it up and running again in a jiffy. Very pleasant and professional. Will not hesitate to refer our friends to West Coast Solar.

Tyrone –

I called West Coast Solar for an estimate on a new HVAC unit after reading their yelp reviews. They gave me a very thorough, detailed, and fair quote. Once I gave the go ahead, they called me to schedule the install. The tech was on time, and really pushed through to get the job done in 1 day. Even though he was busy, he made sure to let me know what he was doing and how much longer it would take. Afterwards, he walked me through how to operate and maintain the new unit. Thank you!

Patricia –

We had to have West Coast come several times over the past couple of months, but they finally resolved the issue we've been having with our a/c. Our house was not getting cool, so we had them out to add freon. We asked them to call before they came so we could be there, but when we got home, we found that the tech had come and left, and replaced a part without asking us. Afterwards, the house still wasn't getting cool. The same technician, Sam, came back again and said the air coming out of the a/c was cool, but it was too hot outside for the house to cool down, which we didn't believe. We called them yet again and asked for a different tech to come out. They actually sent a manager, who figured out that there was a bad fuse. He replaced it for us at no charge. I'm mostly pleased with how things worked out, but if you call West Coast Solar, make sure you don't get Sam.

Trevor –

These guys did an awesome job replacing my AC system. Deciding on a new contractor is always a gamble, but I got it right this time. The people at West Coast are very experienced and pleasant, and they will also work around your schedule. Can't recommend them highly enough!
---
Contact
---
You May Also Be Interested In